Training & Programs
Classes
Les Mills
Mixing the hottest music with cutting-edge exercise science, motivation and the energy of many, LES MILLS™ group fitness classes make you fall in love with fitness. Discover our range of world-class group fitness workouts below. 
HIIT
High-intensity interval training (HIIT) is a challenging 30, 45 or 60 minute class that takes your cardio, power and strength workout to another level, as you push your pace out of your comfort zone.
Mind and Body
Our Mind and Body classes consist of body weight or light hand held weights to sculpt core muscle groups. It requires focused alignment, emphasizing muscular strength and flexibility and uses various types of exercise.
Class Packages For All Fitness Levels
Franco's works to make even the most exclusive new trends inclusive. Experience dynamic classes like Barre, Cycle and Body Pump – at no additional cost. Our incredibly talented and motivated team sets the stage by creating an atmosphere of positive energy that inspires feeling good and being your best.
First Class
Try your first class for 50% off!
Class Package (5)
30 DAY EXPIRATION

FROM FIRST BOOKED SESSION
Class Package (10)
60 DAY EXPIRATION

FROM FIRST BOOKED SESSION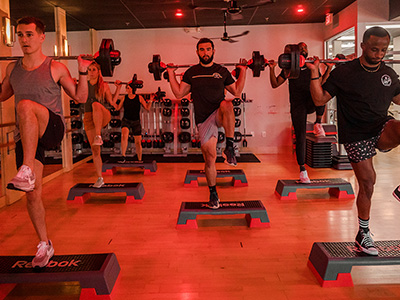 BODY PUMP
Bodypump™ is the original barbell class that shapes, tones and strengthens your entire body. … The key to BODYPUMP™ is THE REP EFFECT™, a breakthrough in fitness training focusing on high repetition movements with low weight loads. This will help you achieve strength and introduce lean body muscle conditioning.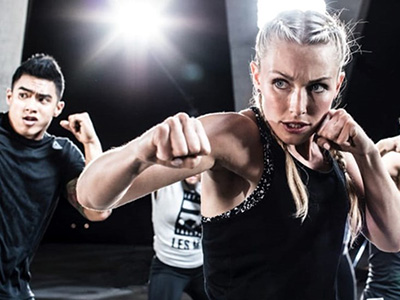 BODY COMBAT
BODYCOMBAT is a high-energy martial arts-inspired workout that is totally non-contact. Punch and kick your way to fitness and burn up to 740 calories** in a class. No experience needed. Learn moves from Karate, Taekwondo, Boxing, Muay Thai, Capoeira and Kung Fu.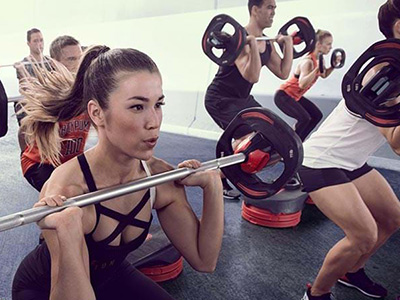 BODY PUMP/COMBAT MASHUP
A mix of our two most popular Les Mills Fitness classes, BodyPump and BodyCombat in one session. Get the best of both classes in each hour-long session.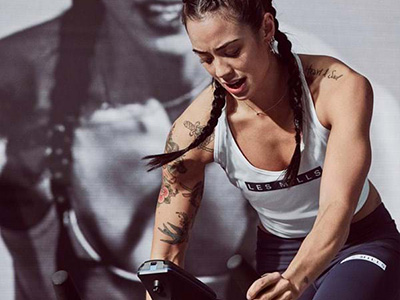 LES MILLS RPM
RPM ™ is a group indoor cycling workout where you control the intensity. In an RPM workout you repeatedly spin the pedals to reach your cardio peak then ease back down, keeping pace with the pack to lift your personal performance and boost your cardio fitness.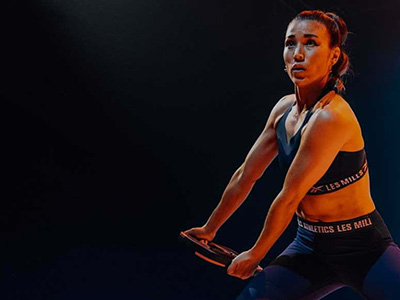 LES MILLS CORE
Exercising muscles around the core, CXWORX™ provides the vital ingredient for a stronger body. A stronger core makes you better at all things you do, from everyday life to your favorite sports – it's the glue that holds everything together.
During the 30-minute workout trained instructors guide you through correct technique as you work with resistance tubes and weight plates, as well as body weight exercises like crunches, and hovers. You will also get into some hip, butt and lower back exercises.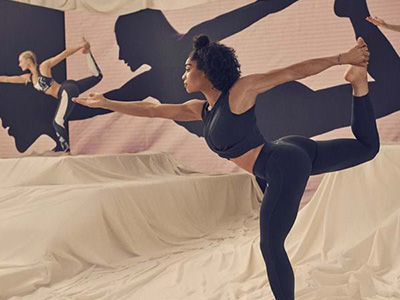 LES MILLS BARRE
LES MILLS BARRE™ is a modern version of classic balletic training; a 30-minute workout designed to shape and tone postural muscles, build core strength, and allow you to escape the everyday
High Intensity Interval Training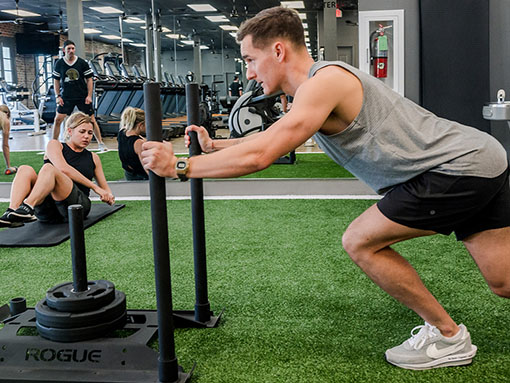 POWER 30
Power 30 is a high intensity interval training, or HIIT, class designed as a useful workout to get you started without spending countless hours in the gym. Whether it's losing fat, gaining muscle or just feeling healthier, Power 30 will help you reach your ultimate potential in just 30 minutes!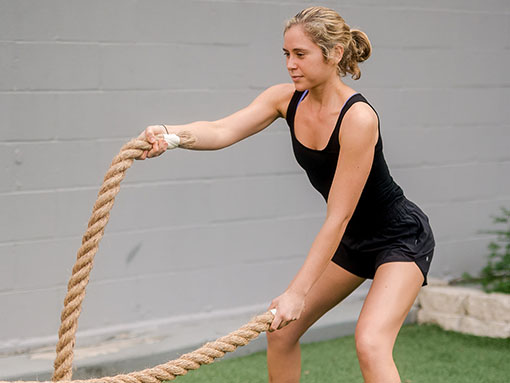 BOOTCAMP
Take your fitness boot camp sessions to the next level by integrating fun, beat-driven workout with high-intensity intervals focused on keeping your heart rate up and recovering with periods of low-intensity strength exercises. Sign up and bring your energy! This class is a high energy, all cardio workout that will have you sweating, smiling and having fun!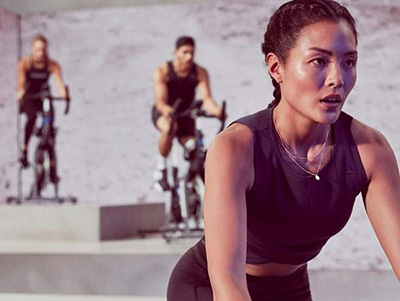 SPRINT
SPRINT™ is a 30-minute high-intensity interval training (HIIT) workout using an indoor bike to achieve fast results. The 30 minutes you put into a LES MILLS SPRINT workout drives your body to burn calories for hours. You combine bursts of intensity, where you work as hard as possible, with periods of rest that prepare you for the next effort. The payoff? You smash your fitness goals, fast.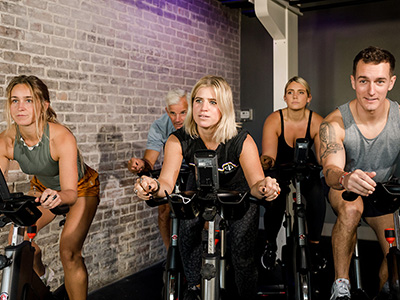 STUDIO CYCLE
Franco's on Magazine Exclusive Indoor Cycling Class. Your instructor will take you through a challenging class that focuses on cadence, jumps, sprints, and climbs for a ride that improves overall athletic performance. Imagine energizing music, sweat dripping, heart pumping and powerful movements to tap into your maximum fat burning potential that will have you coming back for more.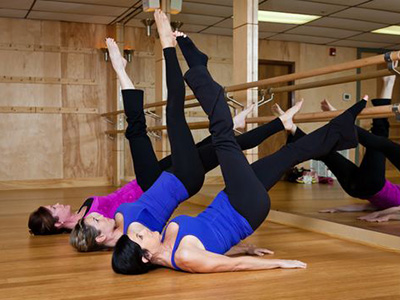 BARRE BURN
Our signature barre workout is designed to trim, tighten and tone your entire body. By using small, controlled movements, isometric holds and high repetition, you can develop a strong, long, and lean physique in record time. Prepare to be pleasantly surprised by how deeply you will engage your muscles as you work through a challenging series of barre and body strength moves.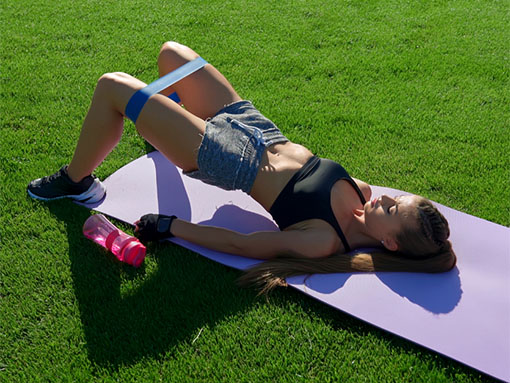 BOOTY BURN
Abs and Booty Burn is a challenging 45-minute workout that will work every angle of your core. This class goes above & beyond sit-ups & crunches to define & sculpt the abdominals, obliques, lower back & booty. This is a 3-dimensional workout for the entire core, that will completely transform the way you look and feel.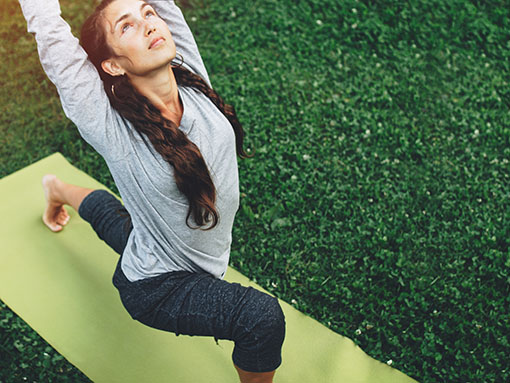 TURF WERQ
Using quick rounds of 20 second bursts of work followed by 10 seconds of rest, you are able to drive your efforts and maximize your fitness. This workout allows the body to burn more energy long after the workout is through. Throw in a Hiit challenge and core sequence and this Tabata-style class engages the whole body with challenge, motivation, and options. No matter your fitness level, Turf Werq offers up heart pounding opportunities and intensity to push all efforts to their fullest potential.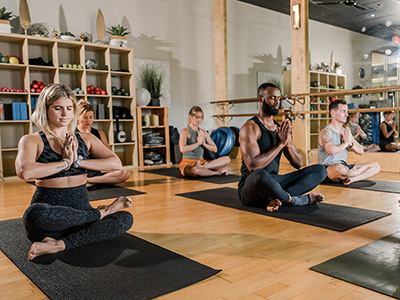 POWER YOGA
Franco's Power Yoga is a fast-paced style class that's focused on building strength and endurance. Although it requires mindfulness and focus on your breathing, power yoga is more dynamic than meditative forms of yoga, and provides a good cardio and strength-training workout.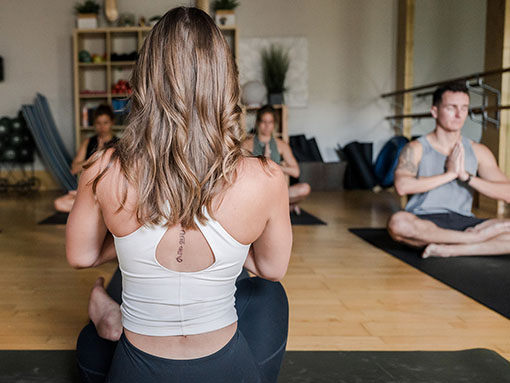 VINYASA YOGA
In this class you will build strength, endurance and flexibility of body. Experience the full benefits of the yoga method by consistent practice. This class is suitable for all fitness and yoga levels. Vinyasa is mindfully arranging something in a particular, or special way. This means sequencing poses that flow from one into the other using the breath, as well as arranging the body in shapes using the breath and arranging the inhales and exhales in a certain way.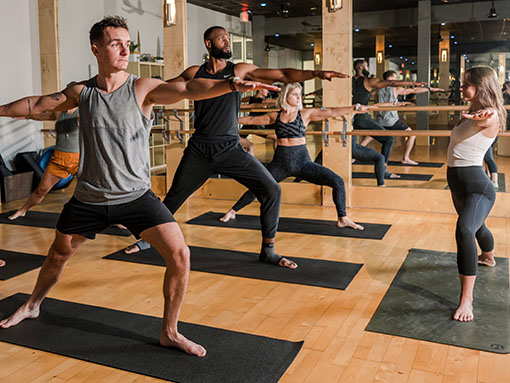 YOGAHIIT
High Intensity Interval Training (HIIT) sandwiched inside a Power Yoga class. It is designed to hit every aspect of your physical fitness while creating mindfulness, and awareness of your body. Students are encouraged to move at their own pace and focus on quality over quantity.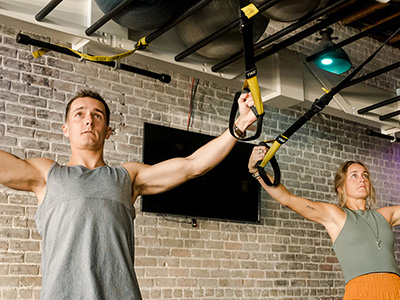 TRX
TRX is a best-in-class workout system that leverages gravity and your own bodyweight to perform hundreds of exercises. With TRX, you are in control of how much you want to challenge yourself by simply adjusting your body position to increase or decrease resistance